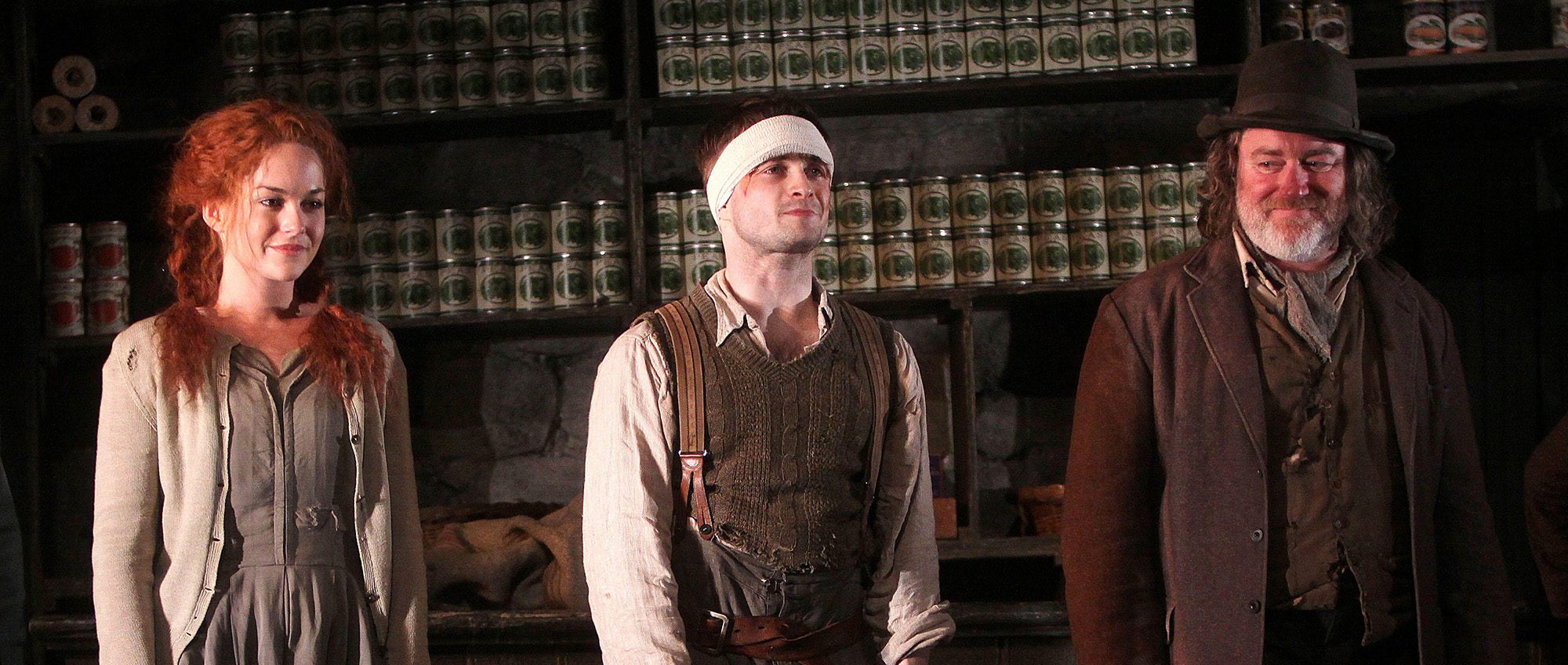 Pat Shortt Is Good Craic in
The Cripple of Inishmaan
Pat Shortt Is Good Craic in The Cripple of Inishmaan on Broadway; Kristin McCracken writes for the Huffington Post 28/5/14
Though he´s relatively unknown on American shores, comedian Pat Shortt has been racking up fans in his native Ireland for decades. After graduating from art college in the 1980s, Shortt and his buddy Jon Kenny formed a comedy duo called the D´Unbelievables; live performances translated into a series of sketch comedy videos that live on via YouTube and DVD. A television spinoff called Killinaskully followed on RTE, featuring Shortt as multiple characters in a fictitious Irish village over five seasons.
Though he´s based in Limerick (where he owns a pub), Shortt´s legendary live performances have made him a household name across the country. (One song, Jumbo Breakfast Roll, is so well known that One Direction´s Niall Horan covered it in a recent concert in Dublin.)
But Shortt is more than a funny-man. His dramatic turn in Lenny Abrahamson´s dark 2007 film Garage won Shortt the Best Actor award from the Irish Film & Television Academy, and the film won a prestigious award at the Cannes Film Festival, among others. Roles in other films followed, including John Michael McDonagh´s The Guard and Calvary, and Shortt also developed a taste for the theatre.
Last summer in London´s West End, Shortt starred with Daniel Radcliffe in Martin McDonagh´s "The Cripple of Inishmaan." Directed by Michael Grandage, the darkly comic show was a huge hit, and when the cast was invited to reprise their roles in New York, every actor accepted the offer to make the move (an unusual feat, indeed). Since it opened on Easter Sunday (after less than a week of previews), the Broadway production has become the most-Tony-nominated play of the season, and critics have singled out Shortt´s performance as Johnnypateenmike, the unkempt-but-good-natured town gossip who keeps the town–and the plot–on its toes. (In The New York Times, Charles Isherwood says Shortt "should have been nominated" for a Tony.)
We caught up with Shortt in his dressing room at the Cort Theatre last week, where he expounded on his comedic past, his Broadway debut, and his fear of getting complacent. (Oh, and that random audience member who interrupted a recent performance–well played, New York.) We got a total kick out of him, and we hope you will too.